how kitelinens will help you sleep and live more comfortably
"These top sheets are designed to stay in place. So even if you kick during the night, they won't come loose."

"This combination of tucked fabric and free-hanging fabric keeps the sheets secure while still allowing sleepers to poke their feet out, which makes this a great sheet for those who dislike the feeling of becoming 'trapped'"

"These innovative sheets solved one of my most annoying bedding problems"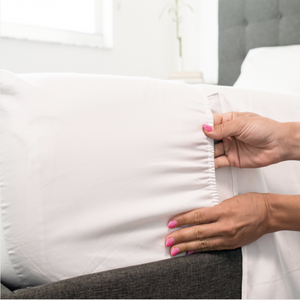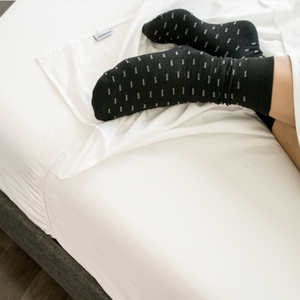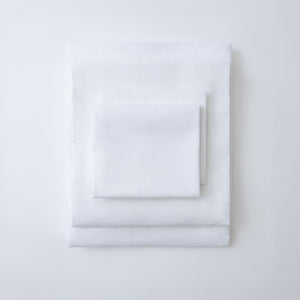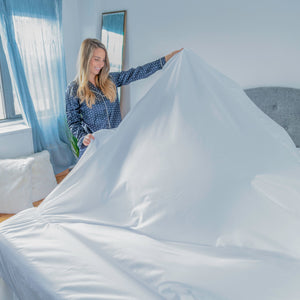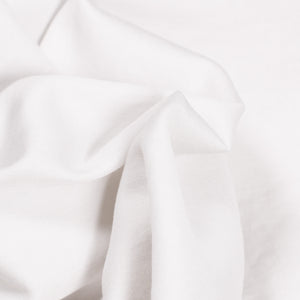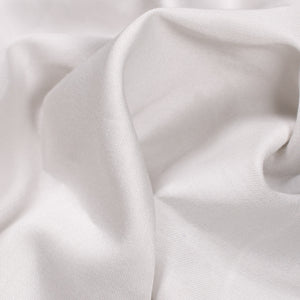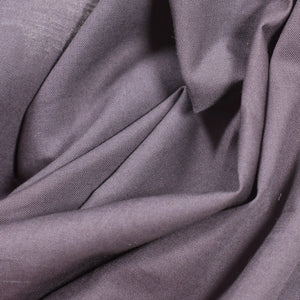 FEATURES
A hybrid-design top-sheet
that you only need to tuck once (no more retucking your top sheet every morning), and it always stays neat and even on your mattress.
Dual side-slits
prevent trapped body heat by giving you the option to kick one or both legs out of the sheets when you sleep. Finally an end to hot sleeping!
Extra long top-sheet
that prevents any active sleeper from stealing (ehmm, hogging!) the covers in the middle of the night, all while still being cuddle-friendly.
Deep pockets (Top-Sheet)
that gives your toes and feet the freedom to move without constriction, yet stays on the bed all night long. No more trapped toes up in here!
Deep pockets (Fitted Sheet)
that help keep those pesky fitted sheets from slipping off your mattress.
Accommodating for Children and Bad Backs
Our hybrid top-sheet design eliminates the need to lift the mattress when re-making the bed. It's easy-peasy for kids AND a relief for bad backs everywhere!
How Kitelinens Compare
Kitelinens
Brooklinen
Boll & Branch
Material
100% Cotton
100% Cotton
100% Cotton
Thread Count
300 TC
480 TC (Sateen)
300 TC (Sateen)
Weave
Sateen
Sateen, Percale
Sateen, Percale & Flannel
Retail Price


(Queen set, white)

$155
$199 (Sateen)
$278 (Sateen)
No-Tuck Design
Doesn't Trap Toes
Multi-Sleeper Friendly
Peace of Mind With Every Purchase
MEET YOUR FAVORITE NEW SHEETS

Patent-Pending Pocket
That keeps your top-sheet tucked in and your fitted sheets on the mattress, perfectly neat. Our easy-on top sheet only requires you to tuck once and never worry about your sheets coming off your mattress while you sleep.
Tuck Once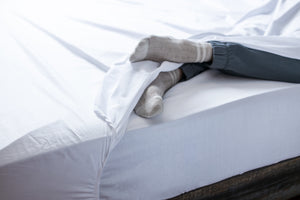 Dual Side Slits
To prevent trapped toes and allow you to sneak your feet out while you sleep for that temperature control. Any ordinary sheet would come untucked in an instant! Stay tucked in or out - your sheets will stay regardless.
Free the Feet
Extra Long Top-sheet
For easy snuggling! There's nothing quite like being tucked in cozy under the covers. Our extra long top-sheet allows you to wrap yourself up without untucking any parts of it. All other sheets are made shorter!
Snuggle Up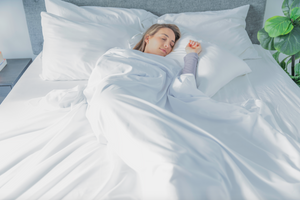 READY TO NEVER TUCK A TOP SHEET AGAIN?
Our easy-on top sheet design means you don't have to bother tucking the sheet in along the entire perimeter of your bed. Give them a try – one tuck is all it takes, so you have more time to focus on the important stuff in life!
Shop Now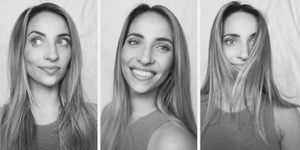 meet our Founder, Sierra Wallizer
Kitelinens' Founder Sierra Wallizer is a female entrepreneur based in New York City. A successful sales professional in software for the past 10 years, Sierra's "aha moment" happened while making her bed one morning and realizing she's always retucking her bed sheets.

"Why won't these bed sheets stay on and tucked in!?" She knew there had to be a more efficient way to do this daily chore, and she quickly got to work turning her idea into reality.
Read More
THE [UN]TUCKED BLOG
---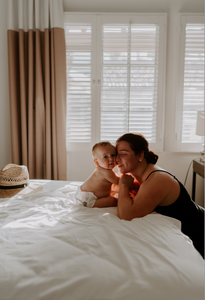 Nothing can prepare you for that very first postpartum journey with your new babe – you've been there and now your mission is to make it easier for other first-time...
Table of Contents: Bed Sheets Designed for Hot Weather (Stay Cool Tech) Stay Cool and Comfortable: Shopping for Sheets Designed for Hot Weather How Kitelinens Became the Top Rated Sheets...
Table of Contents The Evolutions of Bedding Factors to Consider When Buying the Best Bed Sheets for Summer Various Types of Bed Sheets for Summer The Evolution of Bedding Summer...
Frequently Asked Questions
How do Kitelinens cotton bed sheets stay tucked in?
Great question! Kitelinens are bed sheets that never come untucked. Watch this video to see how our sheets' special hybrid design keeps them in place all night long and eliminates the need for time-consuming tucking in the morning.
I have a Full Size bed, will Kitelinens Stay Tucked Sheets work with my bed?
Yes, we recommend Kitelinens Cotton Sateen Sheets Full size for a full size bed.
What is the thread count of Kitelinens Stay Tucked Sheets?
Kitelinens Cotton Seteen Sheets are 300 thread count. This combination makes for extremely soft, cool and crisp feeling sheets.
I don't like the feeling of "trapped toes" - will Kitelinens cotton sheets  be right for me?
Absolutely. We designed Kitelinens cotton sheets to specifically prevent toe tension while still staying tucked. Kitelinens cotton bed sheets are created with extra length and special dual side slits to give your legs and feet freedom to move around, all while the sheets stay on.
How long will it take my Kitelinens order to ship? 
Kitelinens order processing takes place during normal business hours, Monday through Friday, and are processed within 1-2 business days.  Any purchases placed after 3:00pm EST on Fridays will be processed the following Monday.
After you place your order, you'll receive an automated confirmation email from our store with your order number. Within 48 business hours, you will receive another automated email with your tracking number. Once you have your tracking number, you can track the status of your sheets here. 
If you haven't received your order within 2 days of receiving your shipping confirmation email, please contact us at hello@kitelinens.com with your name and order number, and we will look into it for you right away.
Domestic shipping times depend on your location and we follow the guidelines of UPS which quotes, but does not guarantee, 3-7 business days for domestic delivery. Please note, Covid-19 has created extended shipping times. Kitelinens is not responsible for any delays in shipping as this is out of our control.
What's your return policy? 
If you find that Kitelinens sheets that stay tucked in are not for you for any reason, we are happy to help you with a return. We accept free returns on all orders up to 30 days from the date the product arrived to you. Please see the full Kitelinens Return Policy.
Do Kitelinens cotton sheets come with a warranty?

Kitelinens warrants the "Covered Product" to be free of all defects in material and workmanship for 30-days from the original date of purchase. This warranty extends to the original buyer.
A "Covered Product" is defined as any of the following sheet set pieces, and can be individually considered for warranty coverage, depending on the issue presented:

King, Queen, Full or Twin size Stay-Tucked top sheet
King, Queen, Full or Twin size fitted sheet
King or Standard size pillow cases, each individually

Within the period of this warranty, Kitelinens will repair or replace, free of charge, any part of your sheets proving defective in material or workmanship. All warranty repairs and service must be performed by an authorized Kitelinens technician or at an authorized Kitelinens service facility.
All expenses related to replacing or repairing a defective part of your sheets under this warranty shall be assumed by Kitelinens, except for shipping and handling. Please see our full Kitelinens Warranty.
Are Kitelinens Cotton Sateen Sheets organic?
Almost 100%, but Kitelinens sheets are sustainable and free of harsh chemicals. We're committed to making each Kitelinens organic cotton sheet set ethically and sustainably while also delivering the  most comfortable cotton sheets you've ever slept in.
Kitelinens' manufacturing partners are certified by the Global Organic Textile Standard (GOTS). This is the top certification for requirements that ensure organic statues of textiles, from harvesting of the raw materials, through environmentally and socially responsible practices throughout every step in the supply chain of textiles. Companies who are GOTS certified adhere to a strict set of rules ensuring the welfare of the materials, the environment, and the working conditions of workers involved along the way. At a minimum, 95% of the cotton used in Kitelinens sheets is organic fiber and free of harmful chemicals. 
Kitelinens is also proud to partner with Better Cotton Initiative (BCI) certified members (#1005256) so we ensure we are selling Better Cotton. BCI exists to make global cotton production better for all parties involved - those who produce it, the environment it grows in and better for the sector's future. For all farmers involved in cotton production, they are trained on how to use water efficiently, care for the health of the soil it grows in and its natural habitat, how to reduce the use of harmful chemicals and apply superior work principles.
OEKO-TEX Standard 100 certification certifies the manufacturing process, ensuring that Kitelinens' cotton sheets have undergone laboratory testing for a wide range of harmful substances, and are free from known harmful substances. We do this because we care about you and the sheets you're sleeping in.
How should I wash my Kitelinens cotton sateen sheets?
You can wash your Kitelinens Stay Tucked bed sheets just like regular top sheets and fitted sheets. We recommend using a laundry bag to prolong the softness of your cotton sheets and protect them from any possible damage caused during the wash and dry cycle. Your Kitelinens cotton sheets care label will include the following washing instructions:
Machine wash your cotton sheets on warm, Gentle cycle only, Non-chlorine bleach when needed, Tumble dry low, Warm iron or dry clean.
How can I become a Kitelinens cotton sheets affiliate?
We are happy to partner with qualified affiliates (who are enthusiastic about bed sheets that stay on!) through our affiliate program on ShareASale. Please contact us at hello@kitelinens.com with your website, marketing channels, media kit and any other information you'd like to share with us.
Are Kitelinens premium cotton bed sheets available at any retail locations / brick-and-mortar stores? 
Kite Linens cotton bed sheets are not currently available at any retail locations. Buy Kitelinens pure cotton bed sheets that stay tucked in online right here.
How can I become a Kitelinens Stay-Tucked Sheets distribution partner? 
We'd love to chat with you about being a distribution partner of Kitelinens, the most comfortable cotton bed sheets. Please contact us to discuss at hello@kitelinens.com.
What are the sizes of Kitelinens Stay-Tucked Sheets?
Our sheets come in a variety of sizes, including King, Queen, Full & Twin. 
Dimensions for your bed sheets that stay on include:
King Sheets:
Fitted Sheet: 78" W x 80" L (17" pockets)
Top Sheet (Stay-Tucked Design): 105" W x 115" L
King Pillowcases: 20" W x 38" L
Queen​ Sheets:
Fitted Sheet: 60" W x 80" L (17" pockets)
Top Sheet (Stay-Tucked Design): 91" W x 115" L
Standard Pillowcases: 20" W x 31" L
Full/Double Sheets:
Fitted Sheet: 54" W x 75" L (17" pockets)
Top Sheet (Stay-Tucked Design): 84" W x 110.5" L
Standard Pillowcases: 20" W x 31" L
Twin Sheets:
Fitted Sheet: 39" W x 75" L (17" pockets)
Top Sheet (Stay-Tucked Design): 69" W x 110.5" L
Standard Pillowcases: 20" W x 31" L
STALKING ON SOCIAL IS HIGHLY ENCOURAGED